Reusable promocups
Sustainable solution for all your events.
Our Promocups are a full range of reusable plastic cups, ideal for festivals, concerts, sporting events or any other occasion you can think of!
Beer cups, beer mugs, soft drinks, wine cups,
pouring jugs, shot cups, cocktail cups, coffee and tea cups and trays, Create your own 'eye-catcher' and print your glasses with
pad printing, screen printing or, for example, in-mould labeling.
Also possible for small quantities.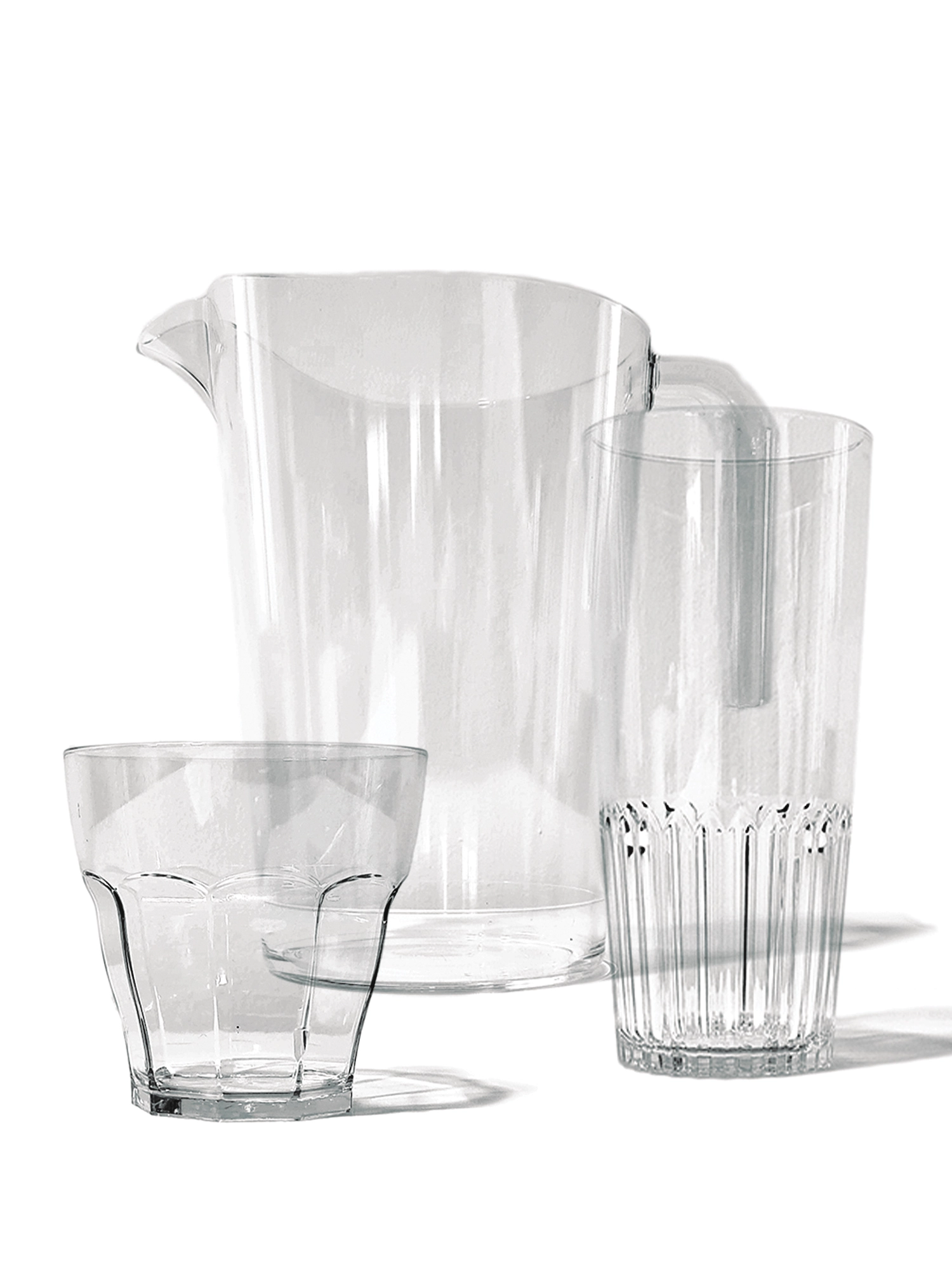 Frequently asked questions about personalizing polycarbonate glasses
I have choosen my cup, what next?
Via the Polycarbonate cups page you can indicate the desired product, size, type of printing and quantities and request a quote without obligation.
We will send a quote to the email address we have received within 1 day.
If the quotation is approved, we will ask for the files to prepare the proof. We would like to receive the files in .pdf – eps or .ai
You can have the cup made entirely to your liking, but if there is a change, we will adjust the design.
As soon as you agree to the proof, we will schedule the order for production and send the order confirmation with the delivery time.
The delivery time for printing the polycarbonate cup is within 4-6 weeks after design approval.
The expression 'IML' is directly derived from the technique: a pre-printed polypropylene (PP) label is placed in a mold. This mold has the shape of the end product, here cups.
The molten PP is then added to the mold. This fuses with the label and takes the shape of the mold during hardening. Result: the label and packaging form one whole.
This technique is ULTRA-QUALITATIVE compared to Digital Quadrichromy techniques.
With iIML you can run digital photo images all the way around the entire glass from the drinking rim to the bottom.
Screen printing is a printing technique that uses stencils that are placed between the ink and the carrier.
The file must be 100% vectorized (fonts and logos).
The cup can be printed all around.
A kind of stamping technique. A cheaper alternative if you only want to have 1 logo printed in 1 color in a small edition.
The most environmentally friendly process. 0% ink, but 100% laser and therefore very durable. Suitable for small and large quantities. Logos, scannable QR codes, names are all possible.
Can I submit my own design?
Submitting your own design is possible. You can download the templates for all coffee cup sizes HERE.
If you cannot reach an agreement, you can of course always contact us.
What if I am dissatisfied with my product?
We work hard to ensure that every order is perfect. As soon as you notice that the order is not in order, please contact us immediately. We work together towards a solution.
Canceling an order with your own printing is possible until the proof has been approved. After approval it is no longer possible to cancel the order.
Orders with pre-printed or unprinted products can be returned (additional shipping costs are at your own expense).
Of course, samples are available on request. We also understand that it is important to have seen and felt the product before placing an order.
Email us: [email protected] and we will send a sample package with our products.
Are you a business customer? Then we have the option to order on invoice.
Please note that PromoCups reserves the right to refuse the choice of this payment method. This only happens as a result of a creditworthiness test carried out by us, including at Atradius.
Polycarbonate cups are virtually unbreakable, making them the obvious choice for use over the other pieces of glassware that can still break easily.
Unbreakable polycarbonate cups are also dishwasher safe and lighter than standard glasses, meaning they can be more economical for workers who may be carrying larger stacks of cups at a time. In addition to combating glass-related violence, there are clear benefits to not having to clean up broken glass at the end of the night.
Modern molding techniques mean polycarbonate cups can be made in a variety of styles, allowing classic glass designs to be replaced behind the bar with a minimum of fuss. In addition to the standard personalized polycarbonate cups, there are also polycarbonate wine cups, champagne flutes, shot cups, cocktail cups and standard tumblers licensed for use in pubs, bars and clubs.
Our extensive range of plastic drinking cups offers a wide range of polycarbonate drinking cups, all recognized as legally usable in licensed establishments.