Personalize your coffee cups
Looking for sustainable drinks serving for events or companies? Choose our printed paper cups! Available in various sizes, suitable for hot and cold drinks. Single-walled for excellent value for money, or double-walled for extra insulation. Personalized with logo or text for brand promotion. Environmentally friendly, made from 100% recyclable cardboard. PE coating ensures liquid tightness. PAPER2PAPER water barrier cardboard is recyclable with paper, without an additional waste collection system.
What sizes can you have your coffee cups Personalized ?
You can contact us to Personalize paper cups in various sizes, including 4oz/115ml, 6oz/180ml, 7.5oz/180ml, 8oz/220ml, 12oz/350ml and 16oz/450ml. Whether you serve coffee, tea, soft drinks, beer or smoothies, we always have the perfect cup for you.
What are the advantages of Personalizing coffee cups?
Personalizing coffee cups has several advantages. First, it can help promote a company's brand name, as printed cups are taken everywhere. In addition, printing coffee cups can give a professional appearance to a company and contribute to the brand experience of customers. It can also be an ecological choice to use cardboard coffee cups instead of disposable plastic cups. Finally, printed coffee cups can also be used as promotional material for events and promotions.
What materials do we use for the coffee cups?
sturdy enough to shape the cup and hold the coffee, while a super thin PE plastic layer provides a liquid-tight coating. PE (polyethylene) is usually used for this. It is important to know that this PE coating makes recycling the cups more difficult. It is therefore important that the cups are collected and processed separately.
However, there are also coffee cups available that are made with a water-based barrier coating called PAPER2PAPER. These cups are suitable for recycling with paper, meaning they do not require a separate or additional waste collection system. They can therefore be collected and recycled with normal paper waste. This makes them a more environmentally friendly alternative to traditional coffee cups.
Boost your brand with custom reusable coffee cups! With us you can easily and quickly print your coffee cups with a unique design. Our high-quality, personalized coffee cups provide an excellent canvas for your unique designs. Whether you want to add your company logo, slogan or a special message, we provide a striking and durable print. Have your coffee cups printed today and ensure an unforgettable impact with your customers and relations.
Frequently asked questions for Personalizing coffee cups
Paper cups Personalized, what next?
Via the Personalized coffee cup page you can indicate the desired product, coating, cup size and quantities and request a quote without obligation.
We will send a quote to the email address we have received within 1 day.
If the quotation is approved, we will request the files to prepare the proof print free of charge. We would like to receive the files in .pdf – eps or .ai
You can have the cup made entirely to your liking, but if there is a change, we will adjust the design.
As soon as you agree to the proof, we will schedule the order for production and send the order confirmation with the delivery time.
The delivery time for printing the coffee cups is within 10-15 working days after design approval.
We offer free delivery almost throughout Europe.
What is the difference between double-walled and single-walled paper cups?
Double-walled paper cups are made from 2 layers of cardboard, while single-walled paper cups are made from one layer of paper. Hot drinks can be served in both single-walled and double-walled cups.
The double-walled paper cups can be printed in both matte and glossy finishes.
The difference between matte and glossy card stock is the brightness between the two papers. Both types are manufactured in a similar manner, but they look and feel different.
To give the cups a matte appearance, we print them on uncoated cardboard, which has better color absorption properties. If you prefer mild and light colors, choose matte cardboard. Glossy card stock is shinier, making the visual print on the glossy cup more noticeable.
For vibrant and shiny colors, we recommend choosing glossy card stock. The glossy paper cups are printed on coated cardboard.
What is the difference between PE coating and water-based coating (P2P)
PE (polyethylene) is a type of plastic that is used on the paper cups as a coating and barrier to make the cups liquid-tight.
P2P: Paper cups with a water-based barrier coating are also liquid-tight and have a PAP21 recyclability certificate, meaning they do not require a separate or additional waste collection system as they can be recycled with paper.
In addition, these paper cups feature the Paper2Paper and PAP21 logos on the bottom, making it clear to customers that such packaging can be disposed of in paper waste containers
Can the inside and bottom of the cup also be printed?
Although we always use food-safe and low-migration inks, it is not legally permitted to print the inside of the coffee cup, because the hot drink then comes into direct contact with the ink.
To prevent leakage, it is not possible to print the bottom (the bottom circle) of the coffee cup.
Of course, samples are available on request. We also understand that it is important to have seen and felt the product before placing an order.
Email us: [email protected] and we will send a sample package with our products.
Are you a business customer? Then we have the option to order on invoice.
Please note that PromoCups reserves the right to refuse the choice of this payment method. This only happens as a result of a creditworthiness test carried out by us, including at Atradius.
I have a complaint about my order, what now?
Do you have a problem with your order, have you complained about the delivered item or received an incorrect item? Please contact us.
Our skilled customer service is there for you every day and is happy to help you find a solution for your situation
Can I submit my own design?
Submitting your own design is possible. You can download the templates for all coffee cup sizes HERE.
If you cannot reach an agreement, you can of course always contact us.
Request a quote for personalized coffee cups
If you want larger quantities than the ones we offer to purchase in our website, please contact us, one of our agents will help you faster.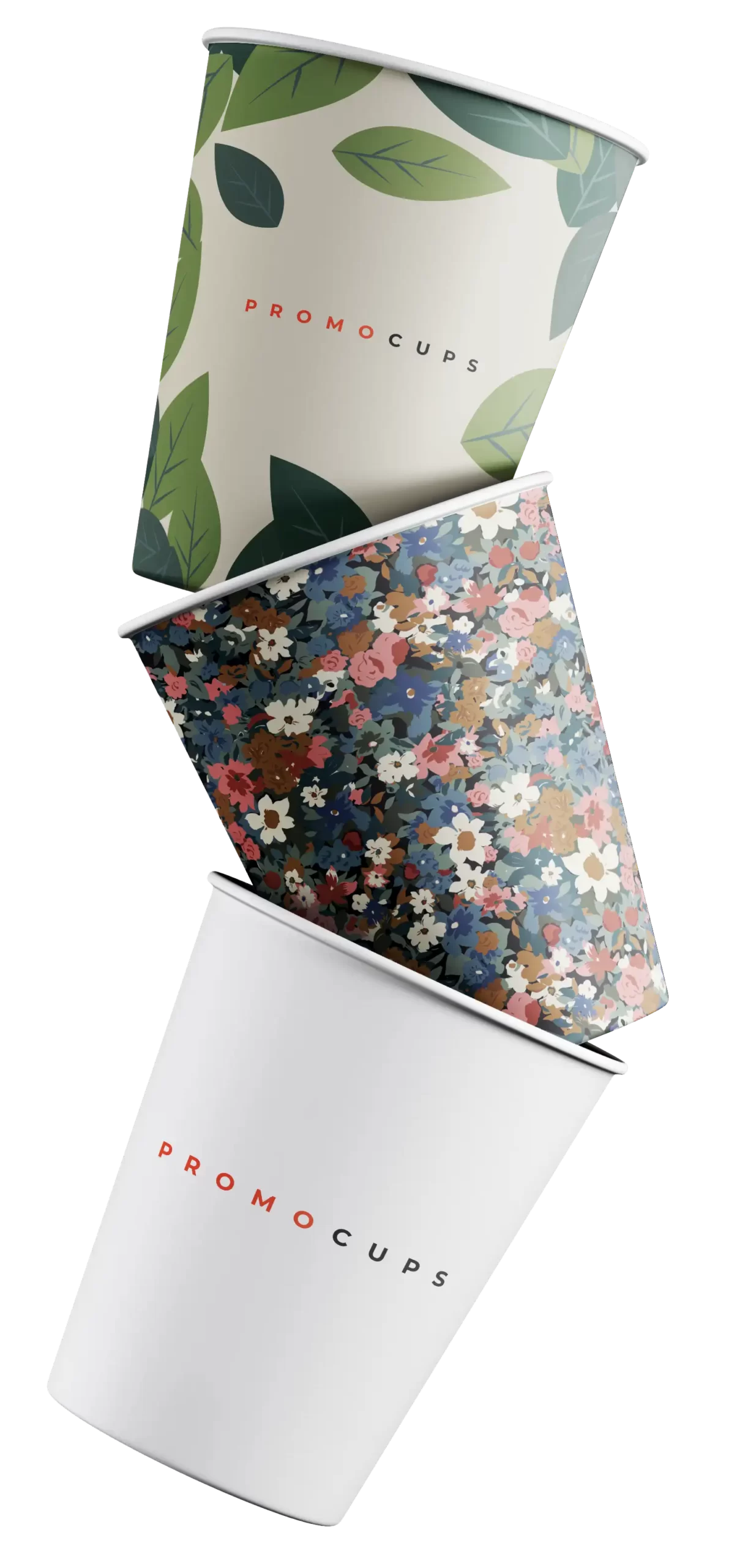 Top 5 design tips for striking personalized cups Designing eye-catching...
Sign up and stay informed